Sample Terms of Use for a Website
If you're starting the process of creating your own custom Terms of Use agreement (ToU), it helps to have some basic information to get you started. Since a Terms of Use agreement can be a somewhat complicated document, it's best to start with the basics and an overview of how this agreement can benefit your website or app.
Once you have a handle on the basics you can build your agreement in a better way and with more understanding of what your Terms of Use will help you accomplish.
Let's dive in.
What's a Terms of Use?
A Terms of Use agreement (also known as Terms of Service or Terms of Use agreement) is a legal document that includes the terms for use. It lays out the terms, rules, guidelines, and acceptable behavior, as well as any other information needed, to which users have to agree to use or access a website or mobile application.
These documents are essential for any company that offers the use of a website and mobile app and are essential because they serve as a legal contract between a user and a company.
While having a Terms of Use agreement isn't legally required (not even under new, wide-ranging GDPR rules), having one is a smart business move.
Many site owners opt to create a Terms of Use agreement as it outlines the rules and guidelines users must agree to, and avoids misunderstandings (and potential lawsuits) down the road.
Good Terms of Use agreements protect your right to exclude users from your app should they abuse the app, where you maintain your legal rights against potential app abusers, and so on.
Here are a few platforms where business owners typically elect to deploy a Terms of Use agreement:
Websites
WordPress blogs, as well as blogs on other platforms like Drupal and Joomla!
E-commerce shops
Mobile apps
Facebook applications
Desktop apps
SaaS apps
Desktop apps are a bit of a different situation, as they typically include an EULA (End-User License Agreement) rather than a Terms of Use agreement. However, businesses can (and often do) use both.
Mobile apps now use Terms of Use agreements and a EULA provided the mobile app offers an online service, as well.
5 Reasons You Need a Terms of Use Agreement

People often confuse Terms of Use agreements with Privacy Policies. While the two are similar, they're not the same thing at all.
Privacy Policies are required by law for sites that collect personal data from users, including email addresses, first and last names, shipping address, etc.
Terms of Use agreements, on the other hand, are not legally required but are highly recommended for websites.
Here's why:
1. To Help Prevent Abuses
Terms of Use agreements act as a legally-binding contract between a company and its users. These agreements establish rules and guidelines for users to agree to and follow to access a mobile app or website.
They allow you to disclose important pieces of information, as well. In a Terms of Use, you can lay out what happens if users abuse your mobile app or website. You can also use your Terms of Use to define abuse, which typically includes posting lewd content, spamming users, and other undesirable activity.
If you have a website or mobile app that hosts user-generated content, your Terms of Use agreement can define what is considered harmful language and what your company will not tolerate. While it may seem like these guidelines are nit-picky and too detail-dense, it's an essential way for your company to inform customers and define guidelines.
2. To Own Your Content
As a website owner, there are some forms of content you own right off the bat. These content types include your logo and website design, for instance. Just because you own these things, though, does not stop other people from ripping them off.
This is where a Terms of Use agreement comes in.
In a Terms of Use, you can inform users that you are the legal owner of this content and that international copyright laws protect the content you own.
Frequently, this information is included in an Intellectual Property Clause within a Terms of Use agreement. It might look like this:
"The Site and its original content, features, and functionality are owned by [Owner of Website] and are protected by international copyright, trademark, patent, trade secret, and other intellectual property or proprietary rights laws."
3. To Terminate Accounts
In addition to outlining what happens if a person abuses your platform, you can also describe the punishments for such a deed. You may state within your Terms of Use that users who abuse your platforms may be temporarily banned or even terminated.
The termination clause is one of the most critical parts of any Terms of Use agreement.
This clause informs your users that any account that is deemed abusive will be terminated and banned from using the service going forward.
Termination clauses speak directly to websites that have a registration sector, which means they require users to register before they can use specific functions on your platform. Termination clauses usually look like the following:
"We may terminate your access to the Site, without cause or notice, which may result in the forfeiture and destruction of all information associated with your account. All provisions of this Agreement that, by their nature, should survive termination shall survive termination, including, without limitation, ownership provisions, warranty disclaimers, indemnity, and limitations of liability."
The Guardian, for example, presents its Termination Clause like this: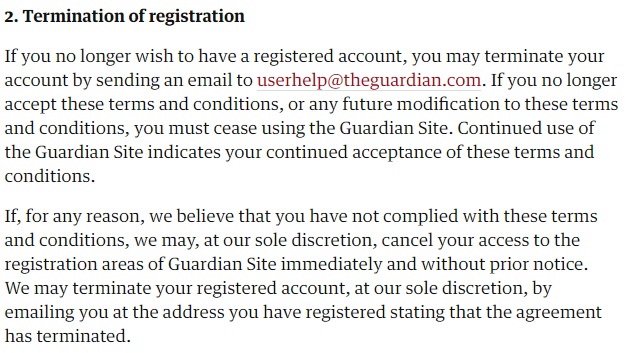 4. To Limit Liability
Terms of Use agreements go a long way toward limiting your liability as a business owner. By including a warranty disclaimer, these agreements can decrease your liability in cases where users find errors in the content presented on your website.
These clauses serve to notify the user that you, as the site owner, cannot be held responsible for errors in the content presented, or for information that is not accurate, complete, or "Suitable for any purpose."
5. To Establish the Governing Law
Typically, the "Governing Law" clause of a Terms of Use agreement refers to the jurisdiction that covers the terms laid out in the contract. If your website is operated in the U.S. for example, your Terms of Use agreement will say something like this:
"These terms and conditions are governed by the laws of the United States of America and the laws of the State of Montana."
These sections can also cover your jurisdiction information if you operate from a foreign country.
What to Include in a Terms of Use Agreement

What you include in your Terms of Use agreement depends entirely on the rules and guidelines you want to establish for your users, as well as how you'd like to govern their ability to access and interact with your mobile app and website:
Here are a few examples:
Intellectual Property disclosure. This tells users that your website's logo, content, and all other media is solely your property and that it is all protected by copyright laws.

Here's how Intellectual Property Magazine does it in its Terms of Use:

A Termination clause. This clause will inform your users that all accounts on your website and mobile app are open to termination, in the case that you find abuse or other poor behavior, and that the decision to terminate an account is up to your sole discretion.

Here's how Facebook does it in its Terms of Service:

A Governing Law. This will notify users which locations and laws govern your agreement. The governing law should pertain to the country in which your company is headquartered or from which you operate.

Here's how Broadridge handles the governing law portion of its Terms of Use agreement:

A "Links To Other Websites" clause. This will tell users that you are not responsible for links to any third-party websites. This clause is generally designed to inform users that it's their responsibility to read and agree (or disagree) with the terms and privacy policies of these other sites.

Here's how Broadridge handles this in its Terms of Use agreement:

A DMCA notice clause. When user content is available to the public and other users, a DMCA notice clause (or Copyright Infringement) section helps inform authors that you will respond to any DMCA takedown notices received in the event copyrighted content is found.

Here's how Twitter includes a DMCA notice in its Copyright Policy:
Your Terms of Use agreement can also be used to explain things like trademarks, design rights, and other intellectual property items to your users. In some cases, things like termination clauses will be essential in a Terms of Use agreement.
This is true for anyone who operates a SaaS app, for example, as the relationship with customers can come to an end for any number of reasons. When it does, though, you need a way to end the relationship without incurring liability on your part.
If you sell products (physical or digital), you'll also want to add a Terms of Use agreement for your store. When this agreement is in place, it'll help you do the following:
Decide how you'll handle different elements of your site's transactions
Help educate users about your ideal and acceptable payment terms
Update users about your new or existing shipping policies
Educate users about returns, refunds policies, and more.
While creating a comprehensive Terms of Use can be difficult as the required clauses vary from company to company, taking the time to move through the process intentionally is the best way to ensure you're not missing anything.
If you find it helpful, look at the Terms of Use Agreements of other companies in your niche or industry to get a feel for what they include, and what you should consider including, as well.
Questions to Ask as You Create Your Terms of Use
Still not sure what to include in your Terms of Use agreement? Ask yourself the following questions:
Do you allow users to create an account on your website or app?
When users publish content on your platform, is it available publicly?
Do you make it possible for users to send you notices about copyright infringement?
Do you run an ecommerce store on your website or app?
After you've asked yourself the above questions, go back through your Terms of Use and ensure it includes all needed disclosures, including (if applicable) the following:
Termination clauses that allow you to terminate the profiles of people of using or accessing your website once they have committed abuses.
"Governing Law" disclosure, which informs your users which country or state your governing laws come from.
Contact details to inform users about their options for contacting you with questions regarding anything, including your legal provisions and agreements.
How to Display Your Terms of Use
There are many ways to display your Terms of Use, although most businesses choose to add it at the bottom of their website in a footer link.

Other options include display during checkout, during signup, when submitting user-generated content, or any time you want users to be aware of your terms and get agreement to them.
No matter what you do, you should take pains to ensure the Terms of Use page is easy for users to understand.
You should also ensure your Terms of Use is personalized for your business. Ecommerce sites, for example, should include information on credit card data, refunds, returns, and more. Fitness centers, meanwhile, will include cancellation policies and disclaimers on health concerns. From there, update the Terms of Use regularly to reflect your changing business practices.